Single Member LLC – Checkbook IRA
A single member LLC is a limited liability company that is its own legal entity, owned by one member. Despite having only one member, the state requires documentation that describes the operations of the LLC, formation information, and business procedures followed. This documentation can include the Articles of Organization or an Operating Agreement.
How Do Single Member LLCs Work with a Self Directed IRA?
A single member LLC can be used as an investment structure for self directed IRAs. In this case, your IRA forms an LLC and is the only member of that entity. The investor/owner of the self-directed retirement plan is the LLC manager on the Articles of Organization. The manager is responsible for making the LLC's investment decisions. A bank account must be set up in the name of the LLC. Funds are then moved from the IRA and deposited into the LLC's bank account. This gives the IRA owner/LLC manager checkbook control of the LLC. The LLC manager can then write checks from the LLC's bank account to buy investment properties. For this reason, this is often referred to as a checkbook IRA or checkbook control IRA.
These somewhat sophisticated investment structures have tremendous benefits to ease the investing processes. However, these accounts are complex. The plan owner must adhere to the rules of self direction and LLCs. But, many investors believe that the benefits of single member LLCs are worth the extra work.
Want a Simplified Banking Experience?
Midland has a relationship with Cogent Bank, which will simplify the bank account set-up process for your LLC. If you want to set up your bank account elsewhere and on your own, no worries. You can apply and use a bank of your choice. If you're looking to just set up an LLC and not a new IRA with Midland, you have that option through our Midland Forms service.
Steps to Fund Your Investments with an LLC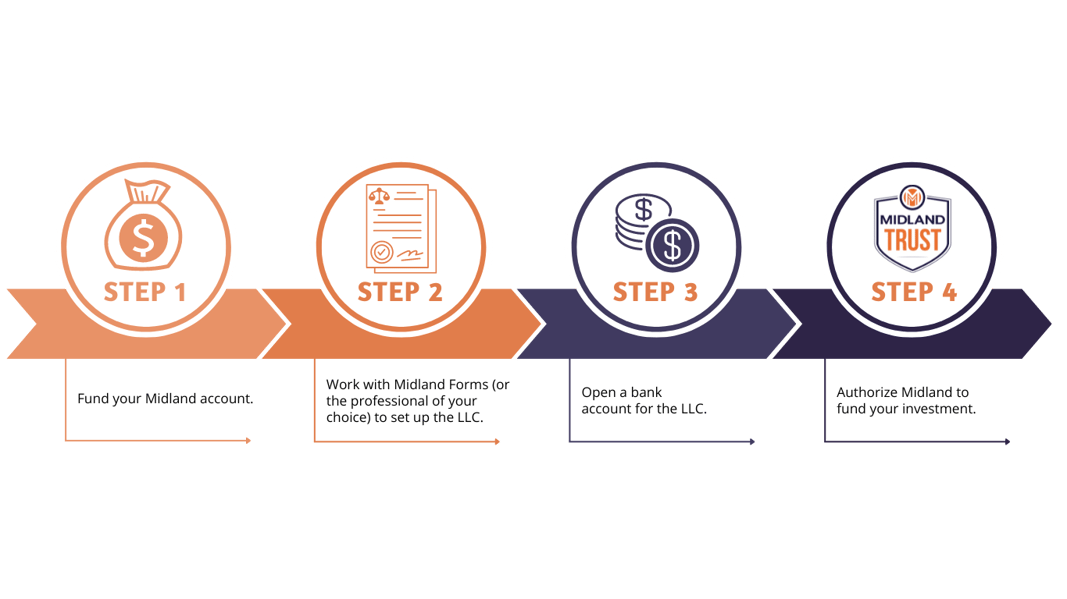 If you're looking to learn more about Single Member LLC's, get in touch with one of our specialists today!
Call us at
239-333-4924 or
CHOOSE A TIME FOR US TO CALL YOU
Send us your questions. We're happy to help!
Frequently Asked Questions:
Prohibited Transaction Guide