What is a Real Estate IRA?
A real estate IRA is defined by real estate investments owned within the retirement plan. It is not a unique or separate account type. Any IRA can be self-directed to invest in real estate. This strategy provides greater diversification and control.
When using an IRA to buy rental property and other real estate, there are many benefits. When you self-direct in real estate, all income and gains are tax-deferred until you take a distribution. With a Roth IRA, all income and gains are tax-free.
With self-directed investing, the account owner directs all investments and does due diligence. As the IRA custodian, Midland does not sell products nor offer financial advice. Our goal is to inspire investors to know their investment choices. We want investors to take control of their retirement accounts.
Who Can Invest in a Real Estate IRA?
Buying real estate can be done with Traditional IRAs, Roth IRAs, SEP, and SIMPLE IRAs. ESAs, HSAs, and 401(k)s can also be self-directed into real estate.
Steps to Buy Property In Your IRA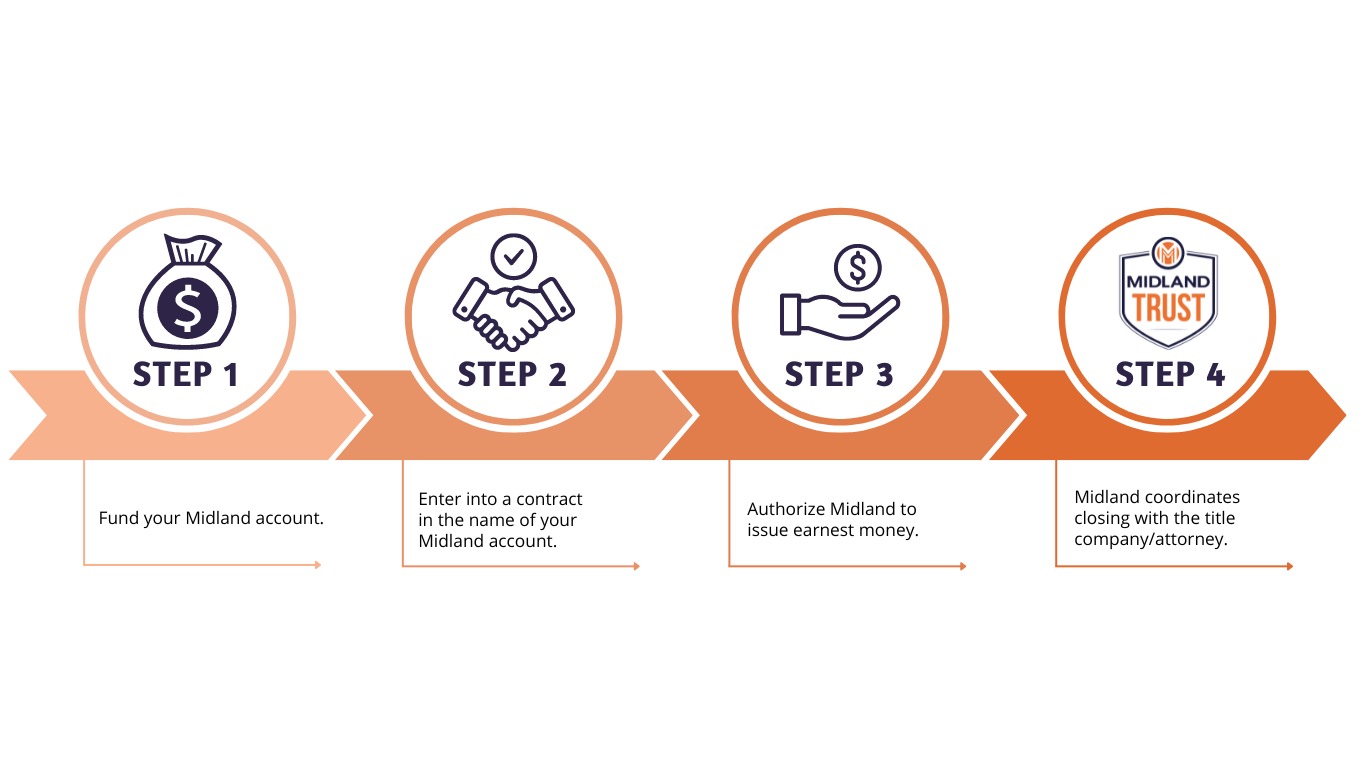 Alternate Source of Funding Investment Property Purchases
You may not realize that IRA funds can invest in real estate. There are several ways in which you can buy real estate with an IRA.
Invest in Assets That Have Opportunity for Higher Returns
Using a self directed IRA allows investors to choose assets that may lead to higher returns than traditional investment options. If you are well versed in real estate, you have an extra advantage by investing in what you know.
True Diversification
Brokerage account firms and banks offer limited investment choices. Those looking to diversify their investment portfolios use alternative assets in an IRA. SDIRAs allow investors to hedge against market inflation. This provides more stable, long-term investments like real estate.
Tax-Free or Tax-Deferred Growth (Time Value of Money)
When you invest in real estate using an SDIRA, you defer capital gains taxes when you sell the asset. Reinvest these tax savings in investments that produce higher returns. Create higher account values in shorter time frames. Create more wealth in your retirement account. Self-direct your IRA in real estate today.
Single-family homes
Multi-family homes
Apartments
Condos
Rehab and flip properties
Co-ops
Townhomes
Commercial property
Improved or unimproved land
Foreign property
Tax liens
Deeds
Trust deeds
Tenant-in-common interests
And more!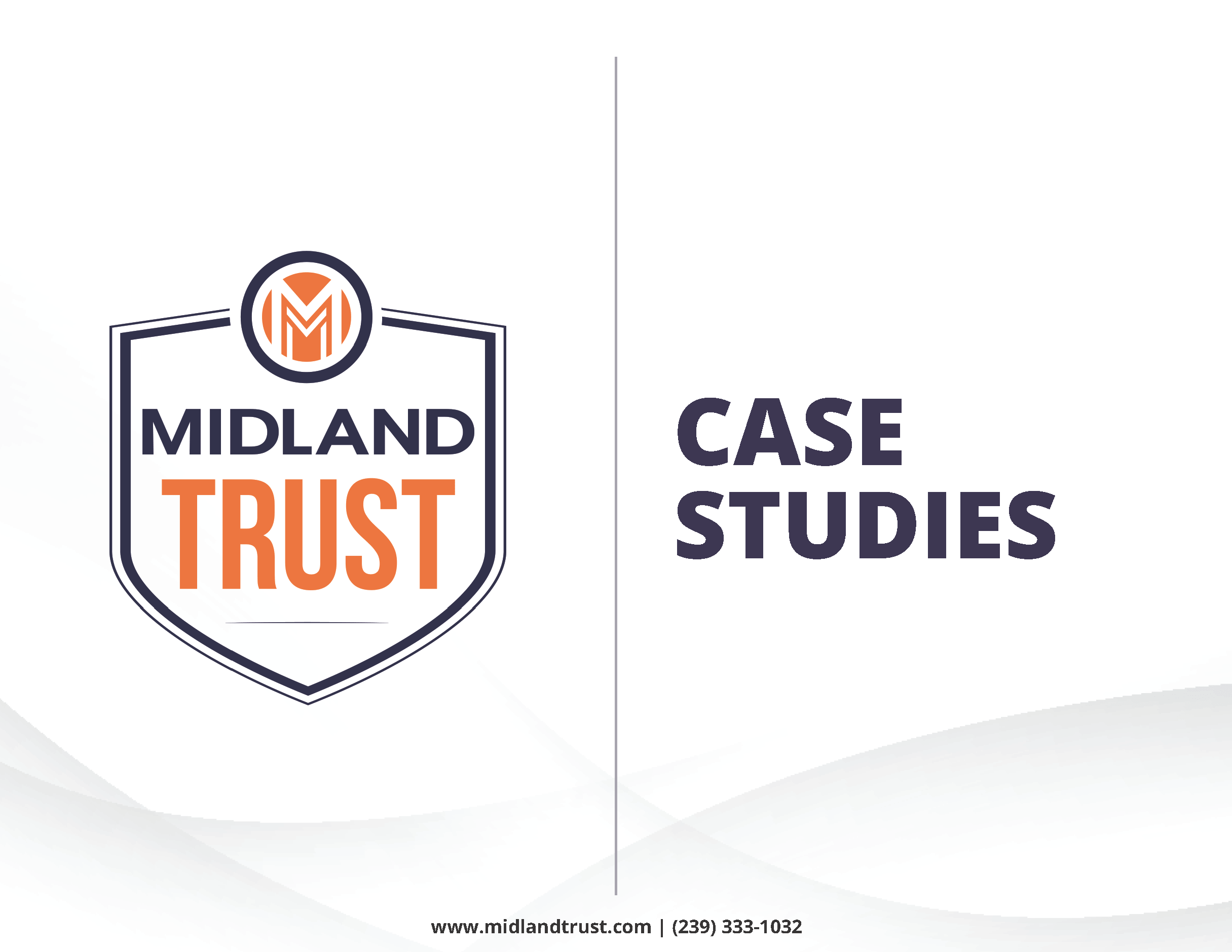 Get Creative With Your Real Estate IRA Investments
Our investors have found creative ways to invest in real estate within their IRA. Take a look at some of their stories and achievements with real estate.
Buying Land in Your IRA
Land could be an excellent investment decision. It can provide better stability than other real estate and has low maintenance costs. Learn more about investing in land with your IRA.
Options in Funding Real Estate Investments With an IRA
Cash Purchase With IRA Funds
If the IRA has enough funds for the entire purchase, it may buy the entire asset.
Partnering Funds
Your IRA can partner its funds. Partner with a friend, associate, family member, or even with your personal funds. When partnering, any individual (or another IRA) can be a co-owner in the real estate.
As an example, John buys a percentage of interest in a real estate investment.
In another example, John is interested in a rental property for $100,000, and his IRA only has $50,000. John can partner with his father, who can buy the other half of the property. John's IRA and his dad then own the property as tenants-in-common.
All income and expenses relevant to the investment are prorated based on the percentage of ownership. In the above example, all gains, rent, and costs are split 50/50 between John's IRA and his dad.
Financing
An IRA can borrow money for investment purposes in the form of a non-recourse real estate loan. When using a non-recourse loan, the IRS prohibits the IRA owner from guaranteeing the loan.
With a non-recourse loan, the property is used as collateral. The lender's only recourse, if there is a default, is to foreclose on the property. Typically, these loans need a larger down payment. Owner financing will qualify as there is no personal guarantee from the IRA owner.
When using financing with your IRA, the account may incur yearly, UDFI or UBIT. It is important to consult with your financial professional or CPA. They will make this determination and ensure proper payment to avoid IRS complications.
Self Directed IRA Real Estate Rules & Titling
Investors using an IRA to invest in real estate must abide by the IRS self-direction rules. A self directed IRA real estate investment has a few more rules to follow.
Personal Use and Maintenance of IRA-Held Property
Under no circumstances may an investor have any personal use of a property held within their IRA. Personal use includes maintenance and improvements done by the account holder. Disqualified parties to the IRA may not use the property either. These persons include the IRA owner's spouse, lineal ascendants, and lineal descendants. Disqualified persons also include lineal ascendants' and descendants' spouses.
What to Know Before Purchasing a Property in an IRA
The IRA must be the property's purchaser. List the IRA vesting as "Midland Trust Company As

Custodian

FBO Client Name, Client Account #" on the contract and all closing documentation.
If the contract is in your name, a new contract will need to be drafted to list the IRA vesting. No assignments or amendments to contracts are accepted.
If Earnest Money is required, you will need to send the IRA vested contract to Midland to have funds issued from the IRA.
Midland will sign all documents on behalf of the IRA once the client initials them, verifying they have read and approved.
What to Know After Closing on a Property in an IRA
The IRA account must pay all related expenses. Your IRA cannot reimburse you for any payments made personally. Some examples of qualified expenses for an IRA-owned property include utilities, repairs, improvements, HOA dues, taxes, insurance, and appliances included in a Lease Agreement.
The IRA must receive all income from the property. Rent checks must be made payable to your Midland IRA account, not the account holder.
A non-disqualified third party must complete improvements to the property. You cannot make improvements yourself.
All Lease Agreements must list your IRA account as the Lessor. You can sign the Lease personally and send a copy to Midland for your records.
If you elect to have a property manager, it should be a non-disqualified third party. The property manager can collect rent and pay any related expenses from the rental income. The remaining funds should be sent back to the IRA.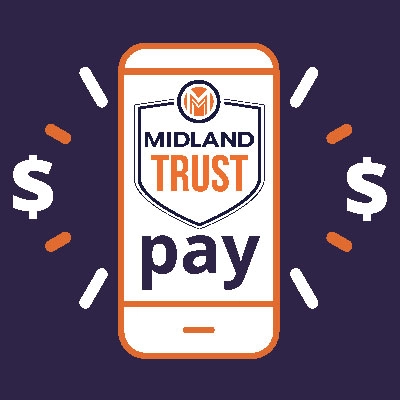 Midland Pay App
Midland Pay is Midland Trust's Payment Portal app. It allows tenants of Midland account holders to quickly and easily pay rent securely via direct deposit (ACH) at no extra cost to you or your tenants.
Midland Pay Features Include:
Send rent payments via ACH

Pay as a guest

Create an account to send future rent payments

Send a one-time rent payment

Schedule recurring rent payments

View payment history

Easily search for the note to be paid
More Real Estate Investment Options
Single-Member LLC (Checkbook IRA)
Real estate investors who need immediate access to their IRA funds should consider a single-member LLC. LLCs would also work well for investors who have many assets within their IRA. A single-member LLC provides checkbook control of the investor's IRA funds. Learn more about single-member LLC investing.
Private Lending With Notes & Mortgages
With private lending in notes and mortgages, the investor has complete control over the lending process. They set the note's interest rate and terms. The investor can also specify the closing agent and collateral required. Learn more about private lending in an IRA.
1031 Exchange
A 1031 exchange allows a real estate investor to defer payment of capital gains. The investor must be selling investment property to buy investment property. Learn more about 1031 exchanges.