Investment Sponsors
Did You Know Investors Can Use Retirement Funds to Invest In Your Business?
Midland makes it easy for individuals to invest retirement funds into alternative investments.
Traditional brokerage firms allow individuals to invest in public markets. Midland allows individuals to invest in private alternatives. These alternatives include hedge funds, private equity, venture capital, start-ups, Crypto funds, real estate syndications, and more.
For investment sponsors raising capital through individual investors, Midland can help. If you wish to tap into your investors' IRA or 401(k) funds, we offer a simple solution for both you and your investors.
Benefits for Investment Sponsors
Capital Raising
Increase your growth opportunities with non-traditional investors. With nearly $11 Trillion currently accessible in IRA accounts, there is an untapped opportunity for your capital raise. Many of your investors are unaware that self directed IRAs are flexible enough to allow for alternative assets. You don't need a specialized IRA. You need a specialized administrator!
OnePath Technology
With Midland's integrated OnePath technology, we will create a custom URL that includes your offering documents and rewards your clients with a simple turn-key solution to completing all IRA, account funding, and investment documents at the same time!
Dedicated Representatives for Personalized Service
Midland prides itself on personalized service. With a knowledgeable staff here to assist you, Midland is ready to find solutions to your needs on a personalized level. We offer a tailored approach for each investment sponsor, allowing you to determine how much personalized client interaction you desire. Furthermore, your dedicated representative will be the main point of contact for both you and your clients from day one, ensuring smooth and efficient funding of the investment offering.
Cutting-Edge Technology
With our innovative technology, Midland clients have real-time access to their accounts. Access includes online purchases, distributions, contributions, online bill pay, and an income payment portal so they can see deposits hit their account. Midland can provide an online master account for investment sponsors where you can find real-time updates on your clients' investment transactions.
Easy Valuation Solutions
One of the requirements of an IRA custodian is to annually report the account's value to the Internal Revenue Service. At Midland, we make valuations easy. Unlike some custodians who require each client to gather supporting documents from you, Midland works directly with you or your point of contact to update values in mass rather than creating effort for each of your clients.
What Investment Managers Say About Midland
"I use Midland because of the personal relationship. When I call Midland, I get the same person every time. They know my business, so I don't have to explain anything." – Managing Partner, Private Equity Firm
"I do business with Midland because they make it easy. They know our product, they know our clients, they know me. I can send them an email asking if they can change something for a client and they always email me back "no problem." I can tell (our rep) that a client wants to invest and she gets it going and makes it happen. I don't have to worry about anything, ever." – Head of Investor Relations, Real Estate Syndication
"Every time I call, I know there's a familiar voice. You don't have to repeat your story 10 times or go through a series of hoops to get things done. It's no hassle." – Head of Investor Relations, Hedge Fund
"Working with Midland has been a very positive experience. Unsolicited, we use Midland as our primary custodian. They're flexible, they're personal, they seem to be genuinely good people. We catch up with them on the phone or at lunch from time to time. It's been a positive experience." – Managing Partner, Private Equity Firm
Benefits for Investment Sponsors' Investors
Your clients achieve diversity in their retirement portfolios. They do this through private holdings not accessible with traditional custodians.
Competitive, flat asset-based fees that do not encumber higher net worth investors.
Efficient use of technology, incorporating electronic signatures for document approval and processing.
24-hour access to their account using the Midland360 online portal.
Investment Process & Timeline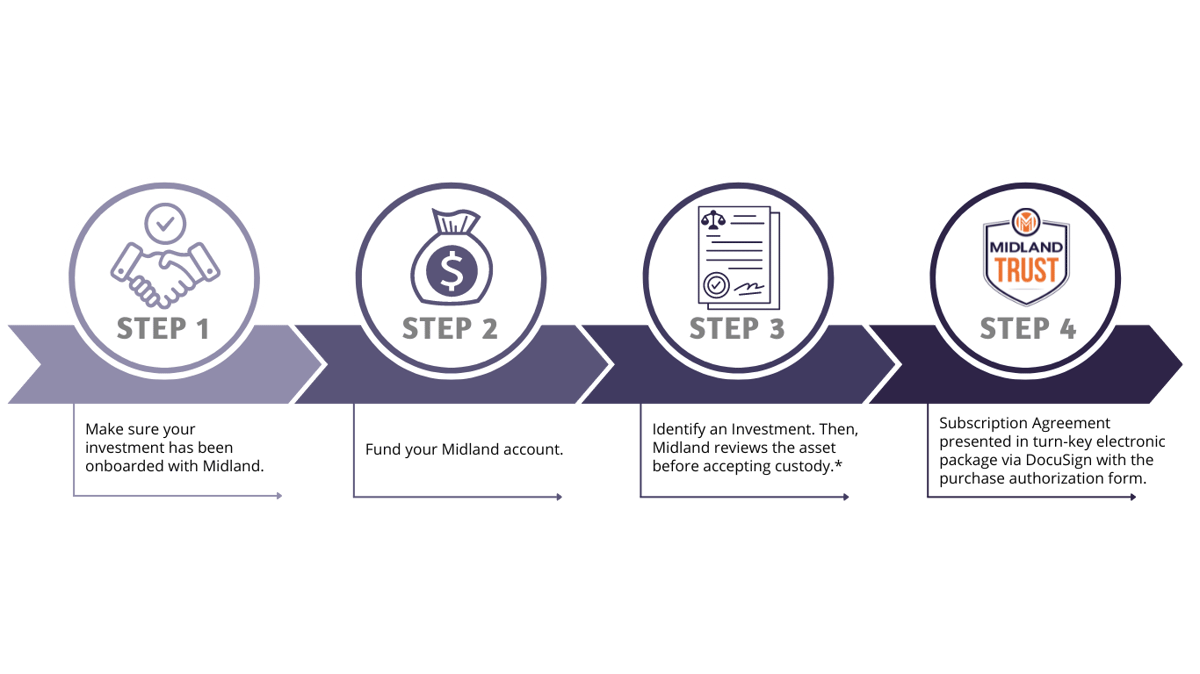 *Midland does not evaluate, do due diligence, or perform other assessments on the asset or sponsor. Our asset review determines if Midland can meet the obligations and administrative responsibilities of the investment.
**Investments can be executed next-day from receipt of executed investment documents and available cash (assuming the 7 day right of rescission has passed).