Gold & Silver IRA Investing Simplified
Midland Trust is well-equipped to provide a solution to investors wishing to diversify their retirement accounts into tangible assets like precious metals. Our approach allows investors to safely and securely purchase metals within IRS guidelines.
Precious metals add the diversity that some investors want in their retirement portfolios. They hedge against market cycles and inflation.
What types of metals are allowed?
Gold IRA
Requires 99.5% Pure Bullion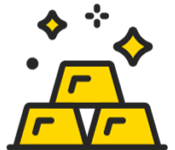 *American Eagles allowed
Silver IRA
Requires 99.9% Pure Bullion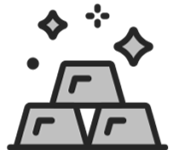 Palladium IRA
Requires 99.95% Pure Bullion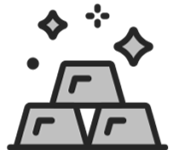 Platinum IRA
Requires 99.95% Pure Bullion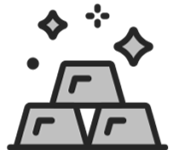 THE FINE PRINT
What we accept
Please note Midland is not allowing numismatic, semi-numismatic or proof coins. Please see the CFTC Notice on Precious Metal Schemes.
When working on an invoice with the metals dealer please note Midland will only allow the following to be purchased:
Bars/Bullion
American Eagles
American Buffalos
Canadian Maple Leafs
Chinese Pandas
Austrian Philharmonics
Australian Kangaroo/Nugget
OUR ROLE AS CUSTODIAN
Details about our role
Midland works with specific depositories to arrange for account setup.
We also facilitate valuations for IRS reporting and provide account administration.

However, Midland is not a fiduciary and has no role in determining whether metals are the right investment strategy for anyone.
Investors must understand the benefits of investing in precious metals with an IRA. They must have a firm grasp of the rules, guidelines, and types of precious metals that qualify. This is imperative to maintain a tax-advantaged status.
Open Your Midland Account
You cannot begin trading with retirement dollars until you establish your IRA with Midland. All trading happens inside your IRA, so the account setup is the first step.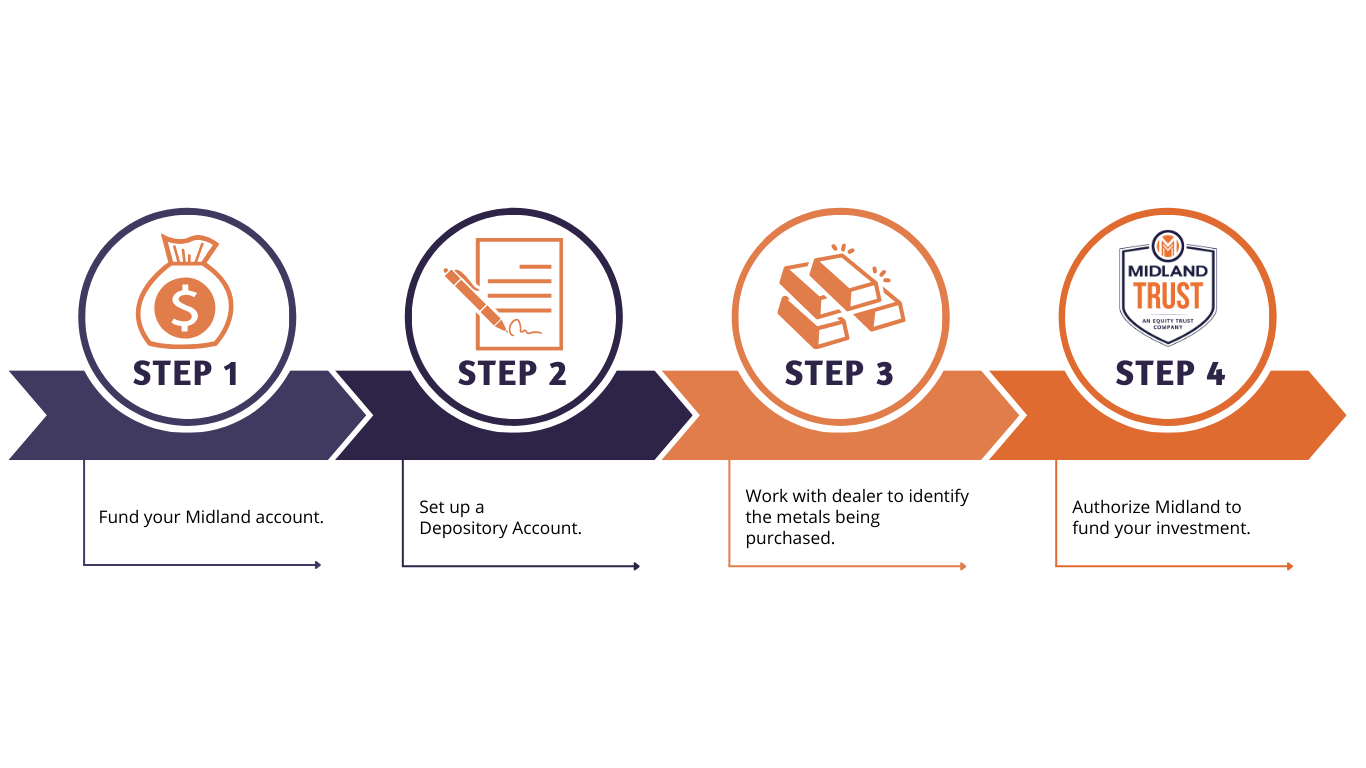 Once the account is set up, what happens next?
Choose a depository and a depository type
(segregated vs nonsegregated).
Midland works with the following depositories to store metals.
Delaware Depository
Texas Precious Metals Depository
IDS Depository
Idaho Armored Vault Depository
Midland will supply depository applications for the depository of your choosing.
Provide your invoice
Once the Midland IRA account is funded and the depository account is established, you will then need to work on providing an invoice from a metals dealer to purchase the metals.
The invoice should be in the name of "Midland Trust Company FBO your name, IRA Account #".
Approve the purchase
After your approval, Midland will wire funds to the dealer and direct them to ship all metals to the depository. It is important to remember that any future movement or sale of the metals needs to flow through Midland, the custodian, for proper tax-reporting purposes.
Have your own depository in mind?
If you would like to choose your own depository then consider a single member LLC to accomplish your goal.
Do you have questions? We're here to help.
What items will Midland need on the metals invoice?
In order to pay the metals dealer, the invoicing has to be very specific.
"Midland Trust Company FBO client name # at Midland" as the buyer, metals to be bought, at what price, and check/wire delivery instructions.
How will I know the metals have been received if I don't receive them myself?
The metals dealer ships the metals to Midland. Midland will receive a holding statement from the depository once metals are received.
A confirmation email will be sent to you once we are able to confirm the metals were received and deposited in your depository account.
Why do I have to use one of your depositories?
The IRS has specific requirements as to the storage of precious metals. In order to ensure that the depository meets these requirements, we guide our clients to those who meet the parameters set forth.
​What if I want to store the metals at another depository Midland doesn't have listed?
Midland has established relationships with several of the nation's most reputable and established depositories. If the depository you wish to use to safely keep your metals is not listed, many investors choose to invest their IRA into a single-member LLC (checkbook IRA) to have freedom in their choice of depositories. Find out how Midland can assist with the creation of your
single-member LLC.
Delaware Depository Fees for storage:

$1.60 per $1,000 ($190 minimum) for segregated
$0.80 per $1,000 ($95minimum) for non segregated
Texas Precious Metals Depository Fee
.18% annual storage rate ($174 minimum) for segregated
IDS Precious Metals Depository Fee
$125 for segregated
Idaho Armored Vault Depository
Greater of: Minimum Fee of $75 per quarter/ $300 annually OR Annual Percentage Fee for segregated

Market Value of Asset (as a percentage of market value)*
Less than $100,000.00 0.78% 0.80%
$100,000.00 to $249,999.99 0.75 0.77
$250,000.00 to $499,999.99 0.72 0.74
$500,000.00 to $749,999.99 0.69 0.71
$750,000.00 to $999,999.99 0.66 0.68
Midland Pricing

$325 annual asset fee (per depository account)
$50 transaction fee (for purchase of metals)
$30 wire fee (for purchase of metals)
Learn More About Investing In Gold & Silver IRAs By Watching This

Short Video:
Articles on Metals & Self-Directed IRAs