Customer Reviews
What do Midland Clients have to say about their experience with us? Here are reviews and ratings from our actual clients.
GOOGLE REVIEW
"I have worked with several Custodial companies and Midland is by far the best. There personnel, examples being Sacha and Sarah, are hugely helpful in dealing with the complex activities related to a self-directed IRA. They really know their stuff and do not make mistakes like I experienced multiple times with other Custodial companies. Additionally, their platform is very solid and easy to use. You will not be disappointed if you engage with Midland."
GOOGLE REVIEW
"Everything was quick and easy, and I was contacted regularly throughout the process to explain what to expect next. I was also contacted afterward to make sure everything went as planned."

-S. Done | September 2023
MIDLAND 1031
"I hope you don't waste any more time looking for a 1031 Exchange partner. You've found it. This is who you want to use."
GOOGLE REVIEW
"Midland Trust is a great company! Everybody there is very friendly, knowledgeable and of course professional. One of the Senior Client Services Associate there, Emily, is great to work with. She handles everything very expeditiously 😊"
GOOGLE REVIEW
"Thanks Midland! From start to finish this was as painless an endeavor business-wise as I have been involved. Looking forward to a productive relationship with Midland."

-V. Douglas | August 2023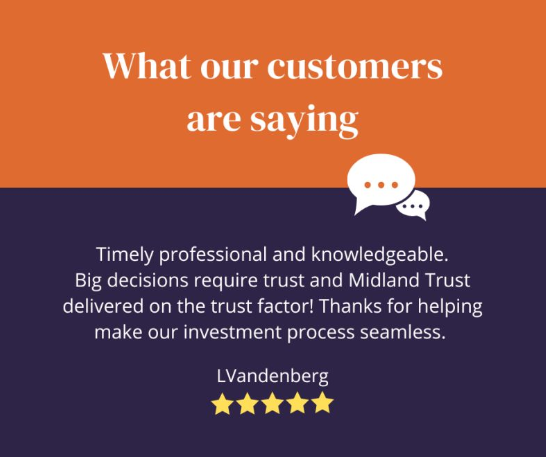 GOOGLE REVIEW
"Your customer service was fantastic. The attention to detail was smooth and straightforward and not to speak of their patience which was outstanding, while walking me through the process. I know I can count on receiving superb customer service from Midland Trust."

-D. Valverde | March 2023
GOOGLE REVIEW
"This company is Amazing in Customer Service. Professional, courteous, and extremely nice! Geoff, Matt and everyone is so dedicated to be a great example of customer service.

-K. Johnson | September 2022
GOOGLE REVIEW
"Having worked with two other IRA custodians, I can confidently say that Midland Trust far exceeds the level of customer service and satisfaction I've experienced elsewhere. In my personal experience, Casey Lopresti assisted me throughout the process of transitioning from another custodian to Midland. He was knowledgable, personable, and efficient. I'd highly recommend that any potential new customer give Casey a call!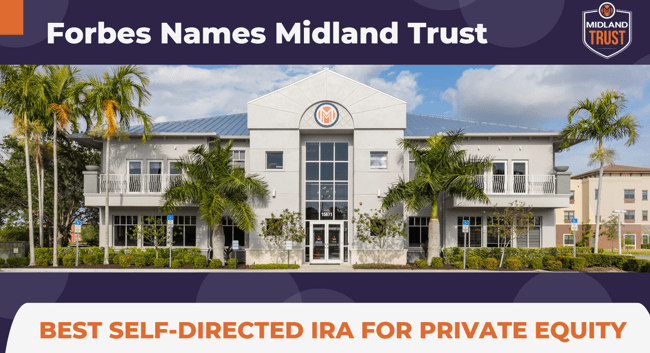 Best Self-Directed IRA for Private Equity: Midland Trust
"If you're an accredited investor looking to hold private equity, it's worth a glance at Midland Trust. With offerings like private equity, venture capital and real estate syndications, their network could help you connect with opportunities you won't find elsewhere."
GOOGLE REVIEW
"Always great service. Easy phone access for help, no long waits, very helpful customer service. Not just this once, but in the past as well."

-J. Powelson | September 2022
Download Real Estate Case Studies
Other investors have found creative ways to invest in real estate within their IRA. Access their stories of investing in real estate with retirement funds.
If you've got questions, we've got answers.
Feel free to fill out the form, and we will be in touch shortly!